Leicester City FC
Hazel Hawker
Historical Record: 479-204-535 (0.477)
Current Season: 10-0-9 (0.526)
Bank 290 / CP 39
Captain: Henry Clapinson
Team Awards
2 FA Shield Titles

Recent Results
Coach's Biography: Hazel Hawker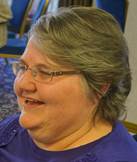 Hiya ... I am the Mum of the manager Cardiff City; wife of the manager of the Dagenham & Redbridge.
I have recently retired from my Roll of a Manufacturing Consultant, and have moved to Gloucestershire, closer to the familty to catch up for a coffee or ice cream, however far enough away not to become emergency baby sitters, !
Being from Wales the land of Rugby Union Land, we tend to watch more rugby than football that my excuse .......
Recent Team News
No team news entries yet...